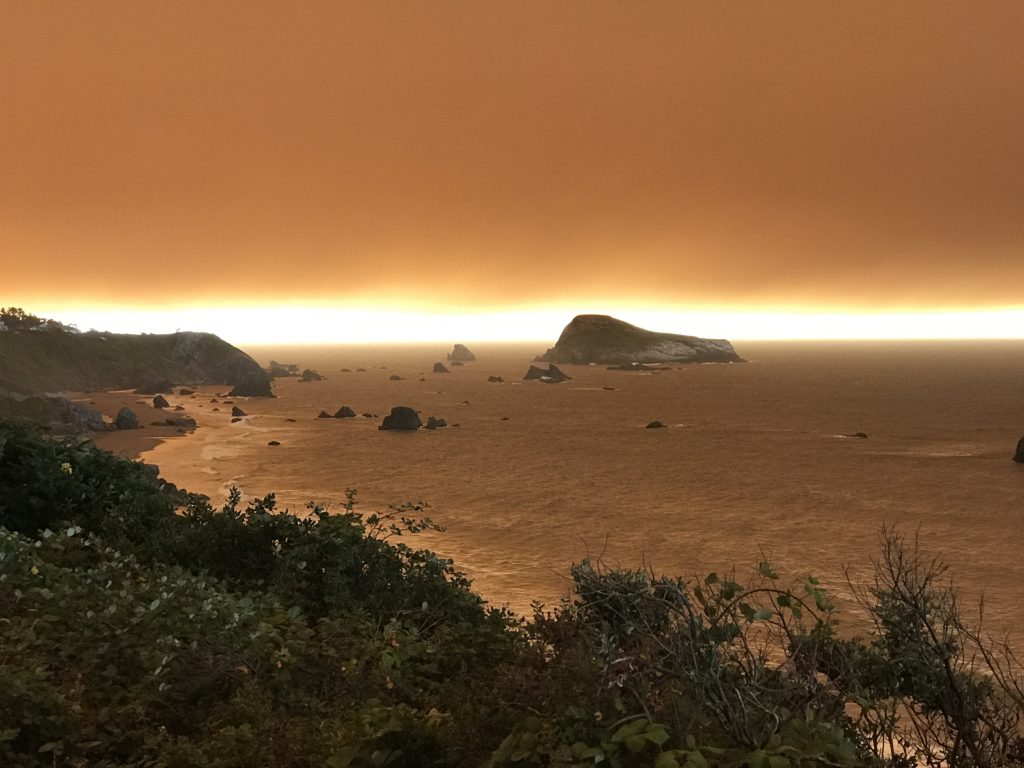 For the past several years our business model took us across the country offering our services to small businesses. But over this past year we were forced to change course in our business several times due to natural disasters including wildfire, heat, floods, and hurricanes.
Our work takes us from town to town helping small businesses just like ours. But when disaster hits, how many can survive? How do we plan for what is ahead?
As a result, we have been forced to stay with relatives until we can recover, because we did not plan for this type of situation. Luckily our business is mobile and requires only our minds, laptops, and a camera. However, a constant level of stress and travel can adversely affect our bottom line.
Many small businesses we work with in rural tourist towns have small stores and rely on foot traffic. That traffic stops when smoke fills the air, or storms force them to cover their windows. Sometimes the only thing coming in the door is water.
Climate change is much more than weather and will greatly affect small business and large business. Infectious diseases, heat stress, air pollution, and waterborne diseases are all influenced by a changing climate – and not in our favor.
Hurricanes change our course
Our plan last fall was to live and work along the coast of North and South Carolina. Living arrangements were made, contacts were in place, and supplies ordered. Just as we were finalizing our plans, Hurricane Matthew was heading for the Atlantic coast. This forced us to cancel our plans and come up with plan B. Who would want to attend a workshop when they are under 5 feet of water?
If you are in a similar situation, you know that losing momentum can be costly. And it certainly has been that way for us this year.
Floods determined our way
After two trips across country in 6 months we have seen the dramatic changes in weather and how it is affecting those that cannot easily bounce back.
One part of our journey took us through the Midwest where we worked along the Mississippi River. Flooding of the tributaries had turned cornfields into lakes. In fact, it was so deep that strong winds created waves that churned up small corn stalks and pushed them up against the highway.
While in Tennessee, we were forced to evacuate our RV Park due to a flooding river which normally would have been a choice spot. It was peaceful there, for a while, as we watched heron fish in the creek and ducks stop by to beg for food.
But when the waters began to rise, it was a contest to see how fast we could move the travel trailer. We saw insects and spiders climbing up our electrical cords and hoses trying to escape the rising waters. Later we discovered them inside with us!
Wildfires smoked us out
As we pulled out of Knoxville, Tennessee in November, 2016, we drove through smoke and fire that eventually burned hundreds of acres and properties, including businesses we had worked with. This was very personal for us. The Smokies were burning due to an unusually dry and hot summer. Lives were lost, and a lot of people's livelihood was also lost.
Now in the summer of 2017 we were evacuated twice due to wildfires in Oregon (the top image is smoke from that location). After spending a month getting acquainted with a small community on the Oregon coast, and finally seeing some results, a fire exploded in the mountains behind us and grew into the largest wildfire this year – nearly 200,000 acres – and is still burning. The smoke choked us out, as well as the tourists who frequent this community during the summer.
As we meet with small business owners we see that the smallest of hiccup can close the doors. My heart was sinking, but so was our bank account. Still no income coming in so we had to move on.
As we headed up to the Columbia River Gorge, we got set up again after two weeks. It takes time to meet the right people and find the ones that need our help. We were beginning to see signs of wildfire again. Planes were collecting water out of the Columbia River to try and suppress a fire not far from the highway.
It was a small fire at that point, and suppression had begun, so we felt safe to take a short trip to Salt Lake City to visit some family. That was Friday. Over the weekend a teenager through a smoke bomb down one of the trails and started another fire, which connect to the smaller one already burning. The fire grew to over 30,000 acres overnight, and was burning along the Columbia River corridor, which is one of our nation's treasures.
Again, we were evacuated.
At this point we were feeling hopeless. The 700 mile trip between our last camp and Salt Lake City, which we drove 3 times in 5 days, was filled with thick, choking, smoke the entire way through Oregon, Idaho, and northern Utah.
The air has finally cleared due to some rain and we are here in Utah designing Plan C, which will include a lot less travel and dependency on the weather.
Do you have a plan to handle any climate changes in your area? It just might be time to think differently. Storms are stronger, fires are burning where they normally don't, floods are more intense, and so is the heat.
Please share any new business plans you have created so that others may get some ideas for their own small business. I will share any that I find.