Getting your Domain and Hosting At Dreamhost
Login here to start. (Open this link in new tab so you can go back and forth between pages)
This special link gives you a $50 savings! You should land on a page like this.

2. Select the Blue button – Get Started in the upper right corner.
3. You will do two things here.  First, Select the "Shared Hosting" option in the first column and change to "Shared Unlimited."  But your price will be less because of the deal. Next, choose the Annual option.  This will also give you the deal of $50 off.  After you selected these two items, hit the blue button at the bottom of the first column "Sign Up Now."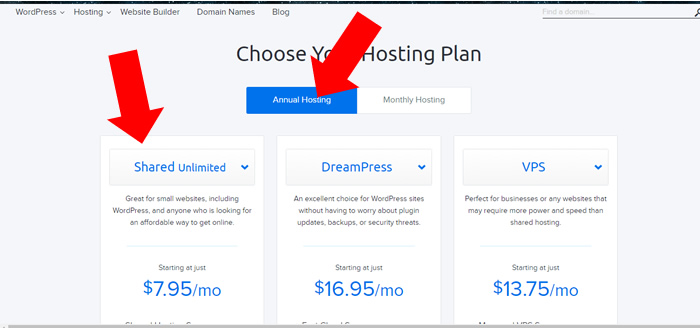 4. Follow the rest of the instructions.
5. When you receive your account login credentials, first save them to a document.  Save that document on your computer as well as on your jump drive you will bring to class. Or some other method that you will have access to in the classroom.
6. Now login to your Dreamhost account. Select Domains on the left side, and then Registrations. You get one free domain with your hosting. Type in the name of your business and see if it is available.  If not, try adding your abbreviated city behind it, such as "domaingjt.com" or the two state code, "domainCO.com".  Try to keep it simple for people who may be typing it in.
If you already have a domain name, you do not need to do this step, but we will need to "point" your domain to the Dreamhost servers. Contact me for assistance. 970-424-3404 (text or call)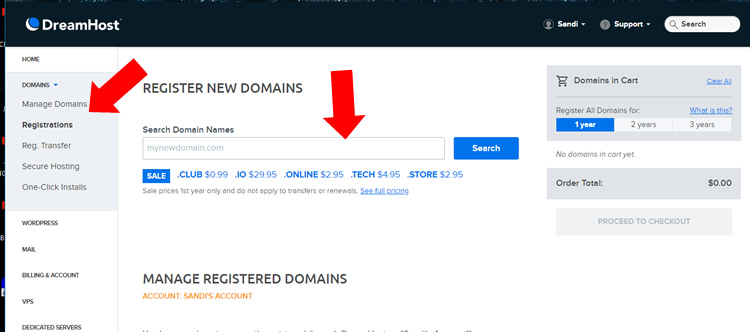 7. Once you have your domain registered, you should see it in the list of Domains.  Click on the Domains link on the left, and then manage.
8. If you need assistance please let me know. This needs to be done before class.