Small Business Marketing Training
Online Training – Live Training – Special Events
Inbound Train provides online marketing education programs to keep your small business on track!
We Believe….keeping small businesses and main streets alive create a special kind of community that is impossible to replace.
We Exist…to help small businesses thrive and compete with larger competitors no matter what size budget they may have!
We gained 9 new clients after making some simple adjustments to our website. Thank you for offering the free workshops!
Cynthia Karube-Spangler
I attended a Google-ize Your Business class hosted by Sandi and Wayne through our local TSBDC and the class helped me so much in preparing my businesses Google presence. Sandi and Wayne are exceedingly knowledgeable in their field and clearly and easily share that with others. If you have a small business and want to take your marketing to the next level I highly recommend the services of Inbound Train as the first step on our social media journey!
Rob Crocker
I took the "Is Your Business Google-ized?" class given by Inbound Train, and sponsored by the Tennessee Small Business Development Center. The class was great! It gave me just the information I needed to better understand how to design my Web site in the best way to maximize my google search results. I have begun to implement the advice given in the class, and have gained more customers already that found me via Google searches. I recommend the class to anyone in business. The information is presented in a manner that makes it easy to get the gist of what is needed very quickly. I am now attending a more in-depth marketing class presented by Sandi Sturm at Inbound Train, and feel that the information presented is relevant and useful.
Lora Corder
Marketing takes either Time or Money If you have more time than money, then we have some great training solutions for you.
If you have more money than time, our Marketing Specialist can help you create strategies that are customized for your business.
Get Your Geek Skills On!
Keep up to date on Google developments and marketing tips and tools with our monthly Geek Meets Webinars.
Small Business Marketing Training Schedule
Keep your small business marketing on track! DIY, or educate yourself about what your marketing team should be doing for you.
Get Trained Now!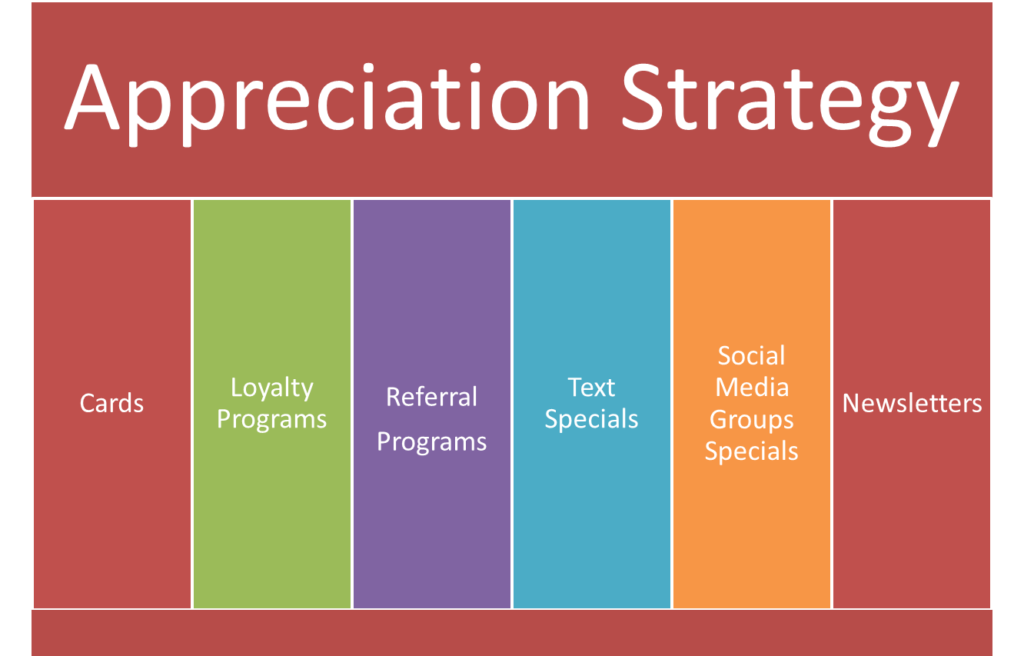 You all know that it is less expensive and time consuming to keep a customer versus finding new  ones. But do you actually take action? During our Geek Meet today we discussed ways to keep our customers happy with appreciation marketing.
Here is a list of strategies you can integrate into your appreciation marketing plan. Find as many as you can that will appeal to your ideal customer/client.
1. Send Thank You cards and Nice To Meet you cards.
We use Send Out Cards for this and it makes such a big impact! Often, when we return to the clients office, the card is sitting on the desk like a picture of the kids. Check it out and think of 10 of your most recent clients or customers who could use a little extra love.
People remember how you make them feel!
2. Loyalty Programs for retail stores
Before the Geek Meet  we were working on the PowerPoint and wanted an example of loyalty cards for the screen. Wow were we amazed at how many we are members of, and how effective they were. From the ice cream shop punch card, to the Theater points card, and my favorite clothing store rewards program (which also texts me on occasion), we are loyal to many local businesses!
What type of loyalty program could you offer?
3. Referral Programs build a sales team without payroll
If you have ever been in a networking group you know that referral programs offer you the opportunity to get your message out without hiring more sales people. We partner with other web companies (yes, the competition) to offer our Google photography services because they do not have that offering. And we give them a 10 – 20% referral (appreciation) fee.
What other companies can you leverage to expand your reach?
4. Over 90% of text messages are opened
You have seen this on restaurant tables, "Text the word Pizza to 12345" to get special deals. This is a fantastic way to get busy almost instantly when you are in the midst of a dry spell. People opt-in to receive your offers, and they can easily opt-out as well if you interrupt too often.
What could you offer your customers or clients via text that has a time limit?
5. Feel Special in a Group
Facebook and Google+ are just two social networks that have options to join special groups. Oh, yeah, LinkedIn does too. This allows like minded people to connect and share information in a safe space. Plus the members can feel special that they were invited.
What group could you create to make your customers or clients feel special?
6. Keep them informed with newsletters
We are all familiar with top of mind awareness. Newsletters are a good way to do this and provide value to your customers and clients. Create a collection of information that will make those that opt in look forward to reading it. And its still OK to mail paper versions if your audience prefers it that way.
What are 4 or 5 categories of information you could put into a newsletter?
Full recording of the Geek Meet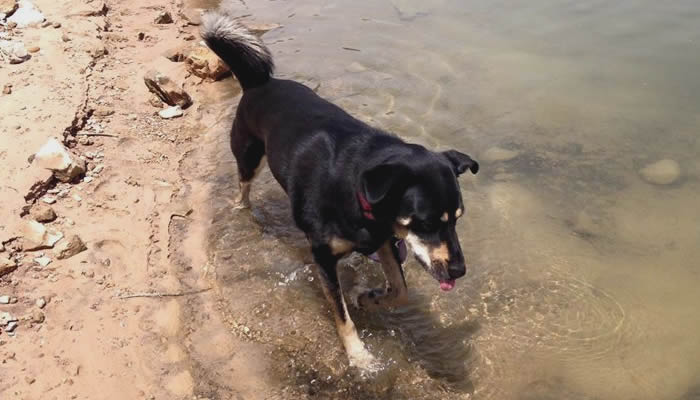 Meet Molly, my grand-dog. I love spending time with her when I visit my girls. During my last visit I was left alone for a while and spent a little time sitting on the porch writing in my journal on a beautiful spring day. Molly also took advantage and popped out from the doggy door to join me. read more…