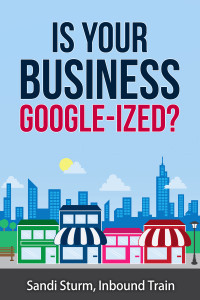 Is your online marketing in line
with what Google wants?
You probably know how important Google is to you being found online. But what is it that you need to do in order to be found online by those potential clients?
Once they find you, how do you turn them into leads and then into customers?
This eBook will give you the BIG picture and tips on what you need to do to become Google-ized!
Happy Google, Happy Bottom Line!
After reading this ebook you will be able to answer the following questions and begin to develop your lead generation strategy.
What is Inbound Marketing?
Is my website optimized for search?
Why should I create content and blog?
How do I effectively use social media to attract customers?
What are the components of lead generation?
Is my website mobile friendly?
How do I keep happy customers?
Fill out the form to receive your copy today and be one step closer to being Google-ized!